So you've decided to move your business online. But where to start? With a quick internet search, you'll find hundreds of ways to get your e-commerce business off the ground. Most of these methods are blocked behind a paywall, and those that aren't don't offer many features to help kickstart your online store.
Luckily, 
Jemi
 offers some of the most powerful built-in e-commerce features on the market - all for free
. This article will guide you through the steps to building an e-commerce business using Jemi! If you want to familiarize yourself with Jemi before starting, make sure to sign up for a free account 
here
. Otherwise, let's get started!
Add a Product
Once you've created a Jemi account, the next step is for you to add a product.
Add a "Product" block
Product block
To add a product, first go to the Jemi page that you'd like to display your products on. Then click on the "+" button in the area you'd like to display your product. After that, click on the "Product" block on the right side panel.
2.   Edit and save your product block
Once you've clicked on the "Product" block, you'll be able to provide the title, description, price, and media/photos for your product. Once you're done, click on "Save Product".
Creating a new product
Once you're done, congratulations! You've added your first product to your online store. Repeat the steps above if you want to add more products to your page. You can also use the Existing products tab to add items or small variations of items that you already have on your page.
Existing product
Link a Bank/Debit Account
Next, you'll need to link a bank or  debit account to your Jemi site in order to get paid. Navigate to the Earnings section under Commerce on the left hand side of your screen, as shown below: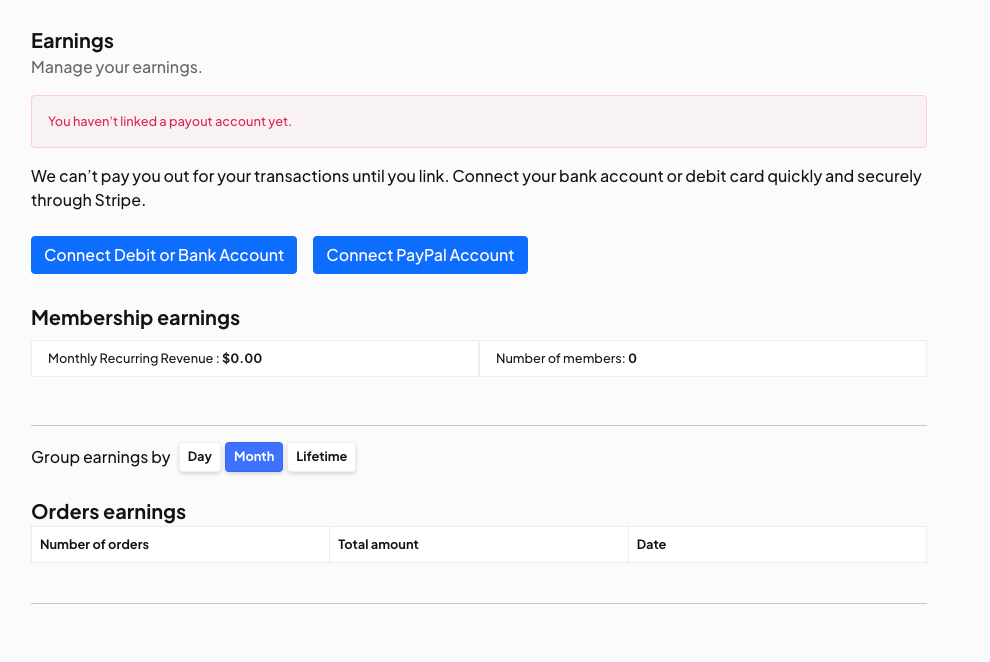 If you don't see this, click the hamburger menu icon on the left-hand side of your screen to get there.
Now that you've made it to the Earnings tab link a bank or debit account by following the instructions given. Keep in mind you'll also be able to see your earnings from your site sales here.
And with that, you've successfully made an online store! From here, you can start adding other products and more information to your store using Jemi's amazing website builder. Again, we highly recommend checking out our discovery guide for Jemi, which will show you how to make the rest of your online store look amazing!
Get started with 
Jemi
 today for free.
If you have any questions, please reach out to our support team at assistant@jemi.app.